The Hover X1 puts fun back into drone flights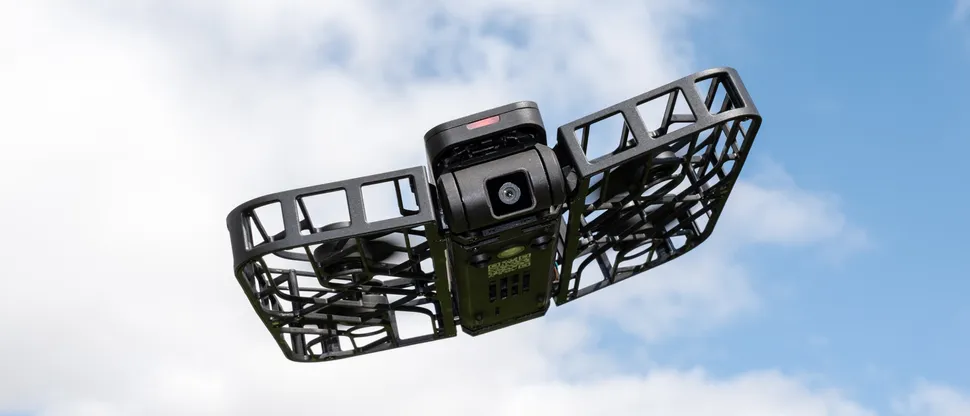 With limited capabilities for manual flight, the HoverAir X1 is aimed squarely at capturing tracking shots of the user and/or the people around them, thanks to intelligent tracking algorithms. This small and lightweight drone features built-in propeller guards for safety, and takes off and lands from the palm of your hand. It's incredibly easy to use, offering video capture of up to 2.7K at 30fps and 12-megapixel photos using the basic point-and-shoot camera.
Pros

Cons

Easy to use, small and lightweight

Smooth 2.7K video
Intelligent tracking algorithms

Limited manual flight capabilities

App controls for manual flight are awkwardly placed
Almost as expensive as the DJI Mini 2 SE
TWO-MINUTE REVIEW
It's always exciting to try something different, and with Zero Zero Robotics' HoverAir X1, you get an easy-to-use drone that many people aptly describe as a flying selfie stick. Selfie sticks have themselves become a source of ridicule in the photography world, but don't let that description of the X1 put you off, because it's incredibly simple to get-going, safe and, best of all, it's a whole lot of fun. What's more, it performs incredibly well when it comes to tracking subjects autonomously.
Most drones follow a similar trajectory in terms of features, functionality and use cases, so it's refreshing to see a drone that breaks from the norm to beat a distinctive path in an increasingly crowded market. So much so, that I'd confidently recommend the HoverAir X1 as being one of the best beginner drones available. It may be far from being one of the best drones in terms of manual flight capabilities, which we'll cover later, but for capturing tracking shots of static and moving subjects using a variety of intelligent flight paths, it's an astonishingly able performer.
The HoverAir X1 is available in both black and white. It's available Device Only, which includes one battery, a USB-C cable for charging and a soft drawstring bag for storage and transportation for $349 / £345 / €388, while the better-value Combo kit includes all of the above, plus a two-battery charging hub and a second battery for $399 / £395 / €448. 
With flight times typically coming in at 9-10 minutes per battery, as opposed to the 11 minutes stated, it makes sense to opt for the Combo kit. The X1 certainly isn't inexpensive, and at the time of writing it's only shipping to the United States, United Kingdom and Germany; but it should be available on Amazon in late September/early October 2023.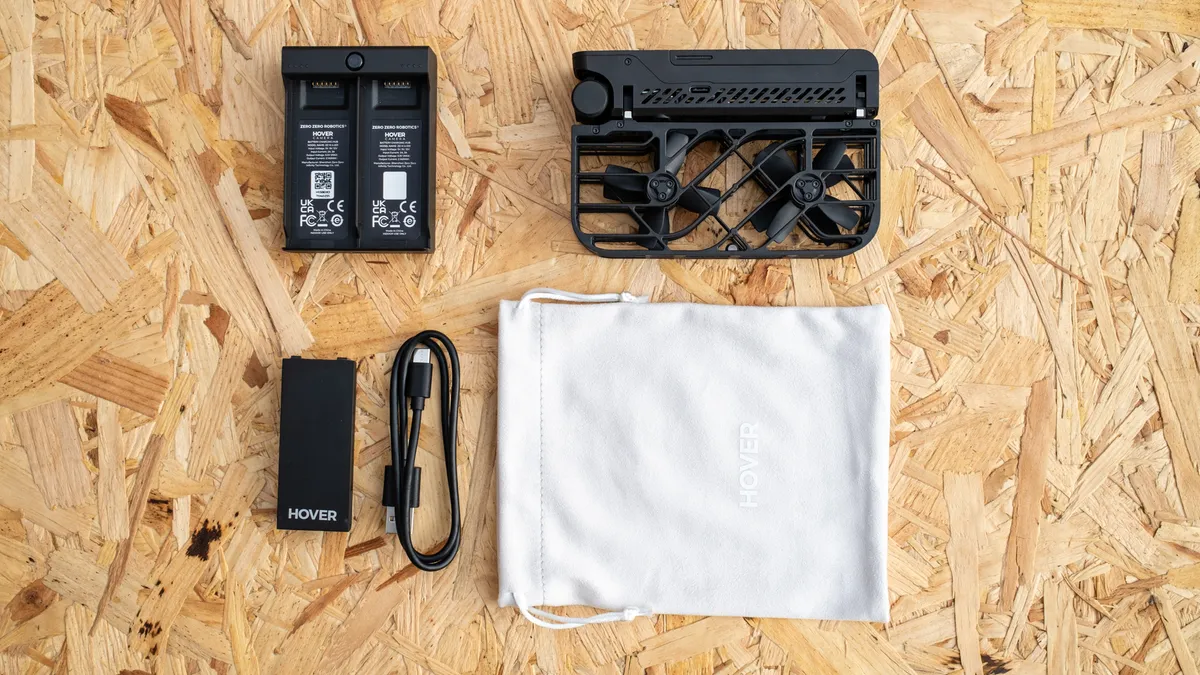 This palm-sized drone is extremely compact and lightweight thanks to a folding design that takes it from 5 x 3.4 x 1.2 inches/ 127 x 86 x 31mm when folded, to 5 x 5.7 x 1.2 inches / 127 x 145 x 30mm when unfolded for flight. And with a weight of just 4.4oz / 125g including a battery, you can take the X1 anywhere without even noticing that you're carrying it. Plus, the propellers are encased in permanent propeller guards, which alongside the small size and low weight make it incredibly safe to fly around people and indoors. So, along with its flight modes, the X1 is also unique in its design.
The control layout on the drone airframe comprises just two buttons; one power button that also doubles up as a start/take-off button, and a second that's used to select the desired intelligent flight path. Activate the HoverAir X1 from within the app, and you can use the drone without the app for quick setup and easy captures, where the video footage and/or stills can be downloaded from the 32GB of onboard storage to your smartphone once the X1 and app are connected via Wi-Fi. Photos and videos can then be shared via the HoverAir X1 app and its community, shared directly to social media, or downloaded to a computer for editing and sharing.
With a drone that's mostly aimed at autonomous flight, the X1 provides plenty of intelligent flight paths that make capturing stabilised video a breeze. These include Orbit, Follow, Reveal, Overhead, Hover, Custom and Manual Control. Custom paths include Dolly Track, where the X1 faces you and flies backwards in front of you, and Snapshot, where the X1 flies in front of you and takes a photo.
All the intelligent flight paths work exceptionally well thanks to the VIO (Visual Inertial Odometry) positioning system. This is an effective system, but it isn't collision avoidance as we know it, so you still have to take care around obstacles such as trees – although, during testing, the X1 navigated some pretty tricky environments exceptionally well. The intelligent flight paths and VIO positioning system, combined with the small size, light weight, simplicity and speed of setup, are something that would be amazing to see in DJI Mini-series drones.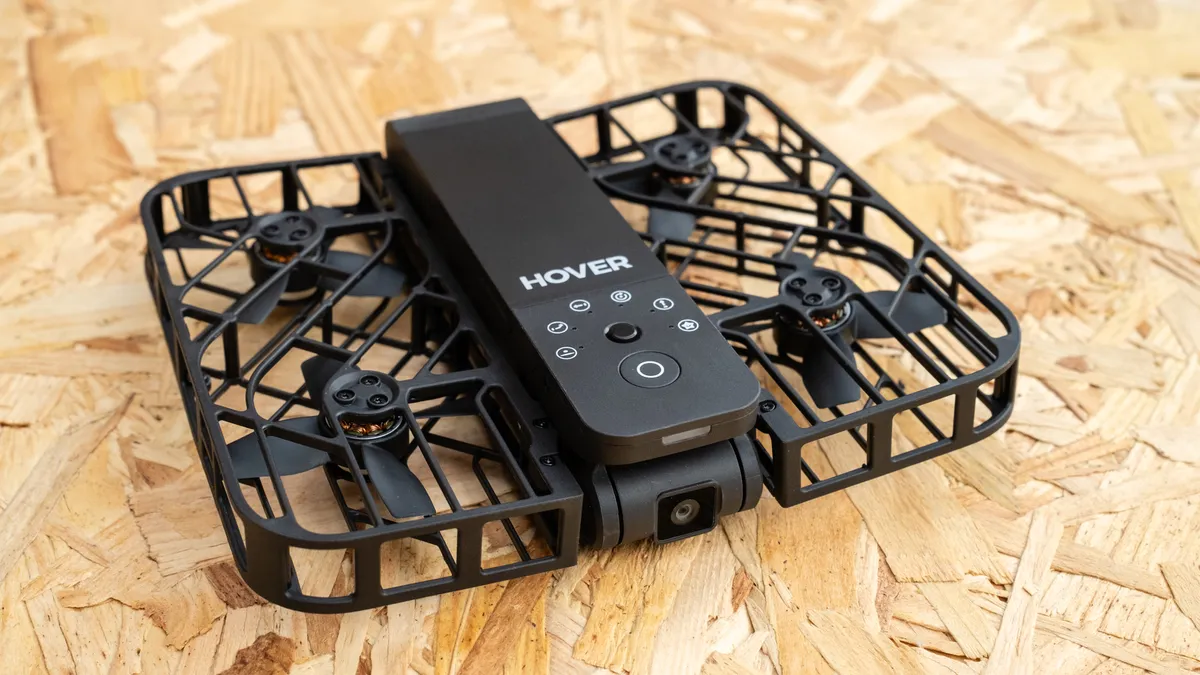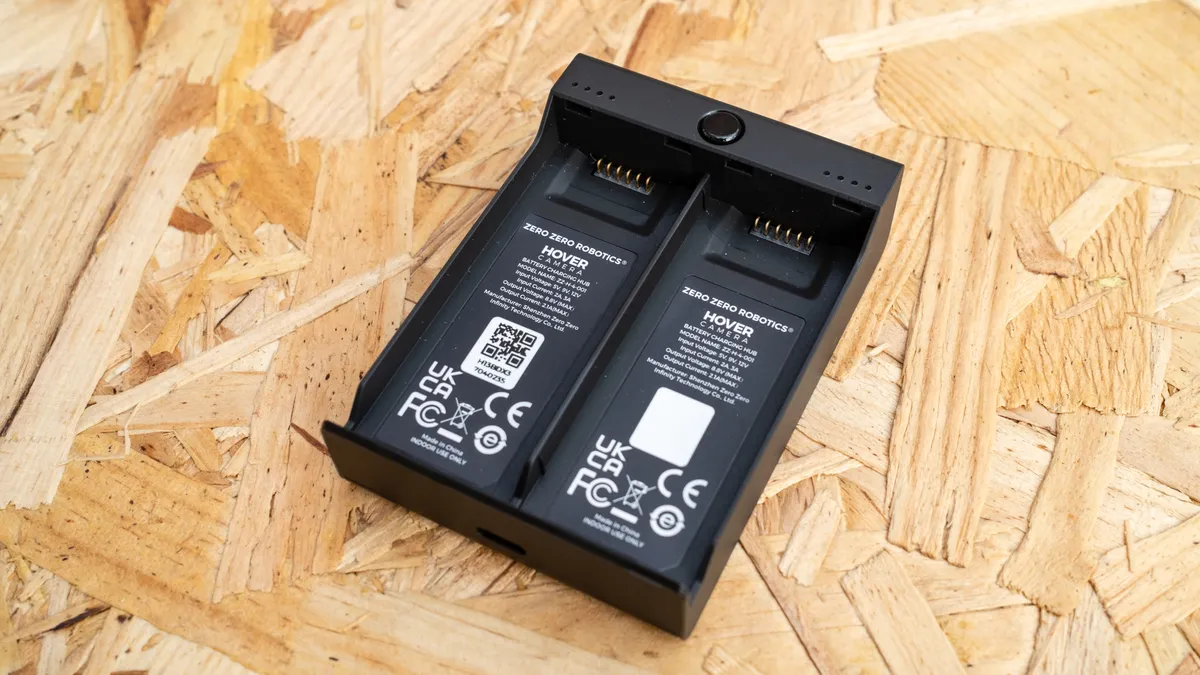 Moving back to the intelligent flight paths, some parameters can be changed with the paths, such as subject distance and height, which keeps things simple; but there's no scope for more in-depth customisation. Custom modes have to be set within the app, and the last-used Custom path remains active within the Custom option on the drone until it's changed.
Manual Control, and downloading photos and videos, require the app to connect to the X1's Wi-Fi. This takes only around five seconds and, during testing, we didn't experience any issues with the connection when flying manually or downloading photos and videos to my Samsung Galaxy 23 Ultra. As you'd expect, the app is available for both Android and iOS, and it's incredibly simple to navigate, with even tips and tutorial videos in the Modes section.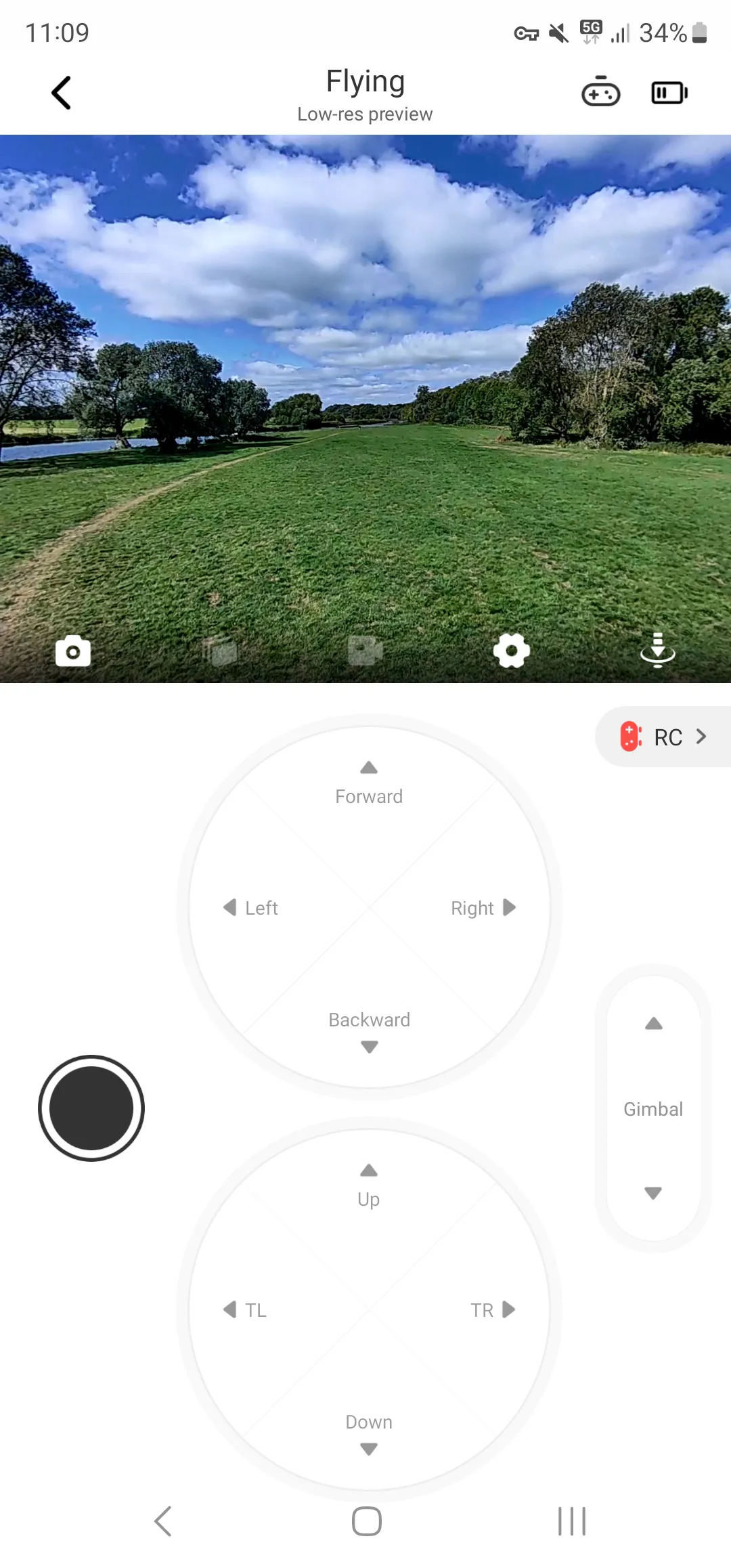 Manual Control within the app is adequate at best, mainly due to the awkward layout of the controls in upright format, where the camera view is at the top and the two on-screen controls sit vertically. This makes it difficult to combine some commands. For instance, the X1 can be flown forward and rolled left or right at the same time, but it would be much better if the camera view was full-screen horizontally, with the controls overlaid as they are in first-person smartphone games.
Manual flight can only be achieved for 30 seconds when flying forwards or backwards, and the X1 appears to fly at a speed of 1m/s, which fits with the maximum transmission range of 30m. In terms of altitude, the X1 can fly up to 15m. The wind resistance is 17.7mph, and even in winds around this speed, the combination of the 2-axis gimbal (tilt axis) and Electronic Image Stabilisation work well to capture smooth video. However, Jello (wobble) can appear in videos when shooting in higher winds.
HoverAir X1 video sample
The video above is 2.7K 30fps
Image quality for both photos and videos is best in brighter light, which isn't surprising given the camera's small sensor. There are no adjustable settings available for photos, except for Standard (single shot) and Burst, which are captured in 4,000 x 3,000/12-megapixel JPEG format. Photo processing is heavy and visible in even what should be low ISO images, and since the ISO is increased by the automatic camera, processing becomes noticeably heavier. It isn't the end of the world, though, because the X1 is best for video-tracking shots, which is where it excels.
Video quality is generally better than photos, although in lower-light conditions, noise is evident in footage. Camera control remains limited here, too, with it only available across three presets: 2.7K at 30fps, 1080p at 60fps and 1080p (HDR) at 30fps. To be completely fair, though, this drone isn't aimed at professional use, although it could be fantastic for content creators and YouTubers, and many people will undoubtedly find the X1 a huge amount of fun.
SHOULD I BUY THE HOVERAIR X1?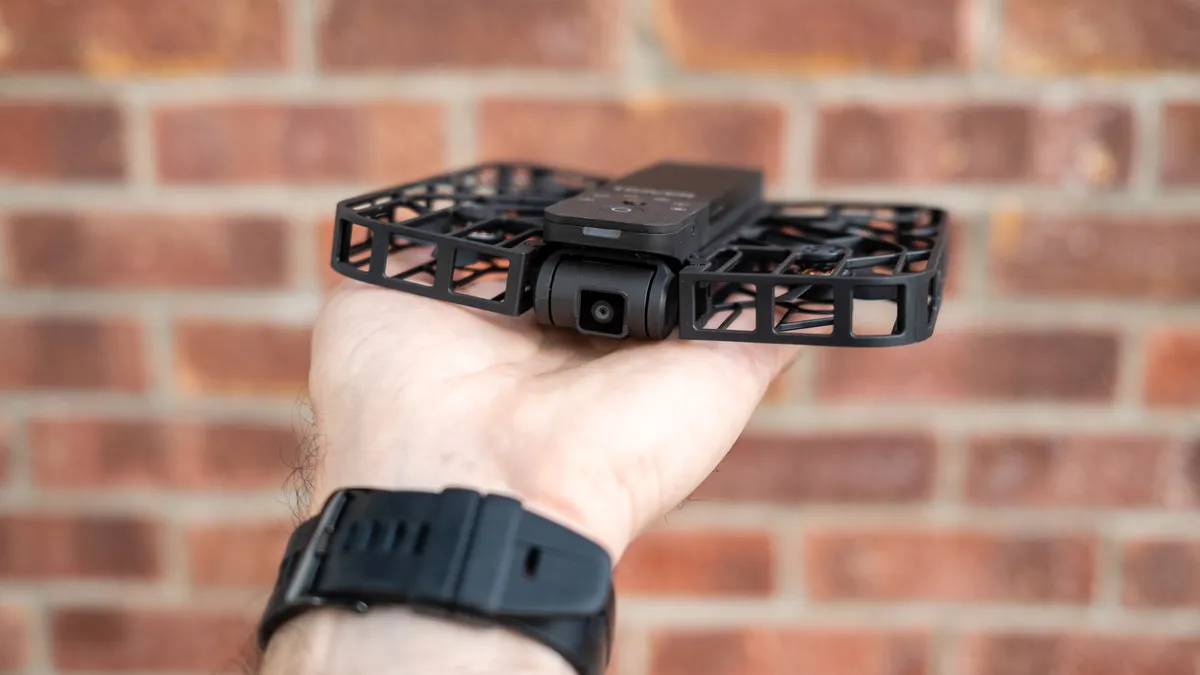 Buy it if...
Speed and simplicity are essential
The X1 can be set up and flown within about 10 seconds, without the need to use the app to select the desired intelligent flight path. Not to mention, it takes off and lands in the palm of your hand.
You'd like an autonomous drone
With multiple intelligent flight paths for tracking static and moving subjects, you can easily capture photos and videos of yourself, family and friends. Image stabilisation for video capture is also excellent.
You'd like a tiny, lightweight drone
Being foldable, palm-sized when unfolded, and with a weight of just 4.4oz / 125g, the X1 is so small and lightweight that you can carry it around all day without even noticing. The encased propellers also make it safe to fly close to people and indoors.
Don't buy it if...
Manual flight is your main aim
The X1 is all about intelligent autonomous flight, offering limited manual flight capabilities. If you need to fly further, faster and higher, a standard camera drone would be a much better option for you.
You require camera control
If control over camera settings is important to you, as well as higher-resolution photos and videos, then, once again, a standard camera drone would be a better choice. And if you're on a budget, the DJI Mini 2 SE is only marginally more expensive than the X1.
You need longer flight times
Fight times here typically come in at 9-10 minutes per battery, which is plenty of time when using the intelligent flight paths. If you'd like longer flight times then a larger drone with a higher-capacity battery is the only option.
HOW I TESTED THE HOVERAIR X1
The HoverAir X1 was tested over several days of flying in a range of locations to test all of the intelligent flight paths, as well as manual flight control through the Hover X1 app. This not only allowed me to test flight and feature performance, but I could also asses image quality of photos and videos in bright and low-light conditions. All testing was conducted in a way that meets local aviation laws and restrictions to ensure that all flights were safe and legal.
With nearly 30 years of photographic experience and 15 years working as a photography journalist, I've been covering drones in terms of shooting and editing techniques, alongside writing drone reviews for many years. As well as flying most consumer and prosumer models, I've previously held a PfCO (Permission for Commercial Operations) issued by the Civil Aviation Authority in the UK, and now fly under an A2 CofC (A2 Certificate of Competency).
First reviewed August 2023
The original source from: https://www.techradar.com/cameras/drones/hoverair-x1-review-more-fun-than-you-can-shake-a-selfie-stick-at