Hey there, drone enthusiasts! 🚁✨ Guess what's just around the corner? That's right, Black Friday 2023! And if you're itching to snag some awesome deals this year, you're in the right place. Welcome to our HOVERAir Black Friday Guide!
So, what's the scoop? Zero Zero unveiled its HOVERAir X1 self-flying camera back in July and folks have been loving it. A pocket camera drone with a sleek enclosure design and a nifty palm take-off function. It's basically like having your own flying selfie stick, leaving your hands completely free. And guess what? Black Friday is the perfect time to make this high-flying dream a reality, or to get a second (or third!) device.
When's the Hover Black Friday Extravaganza Starting?
Mark your calendars, folks! HOVERAir Black Friday kicks off on Nov. 20th (Pacific time zone). And if that's not enough excitement for you, Cyber Monday starts on Nov. 27th and wraps up on Nov. 28th.
What can I expect from the HOVERAir Black Friday and Cyber Monday deals?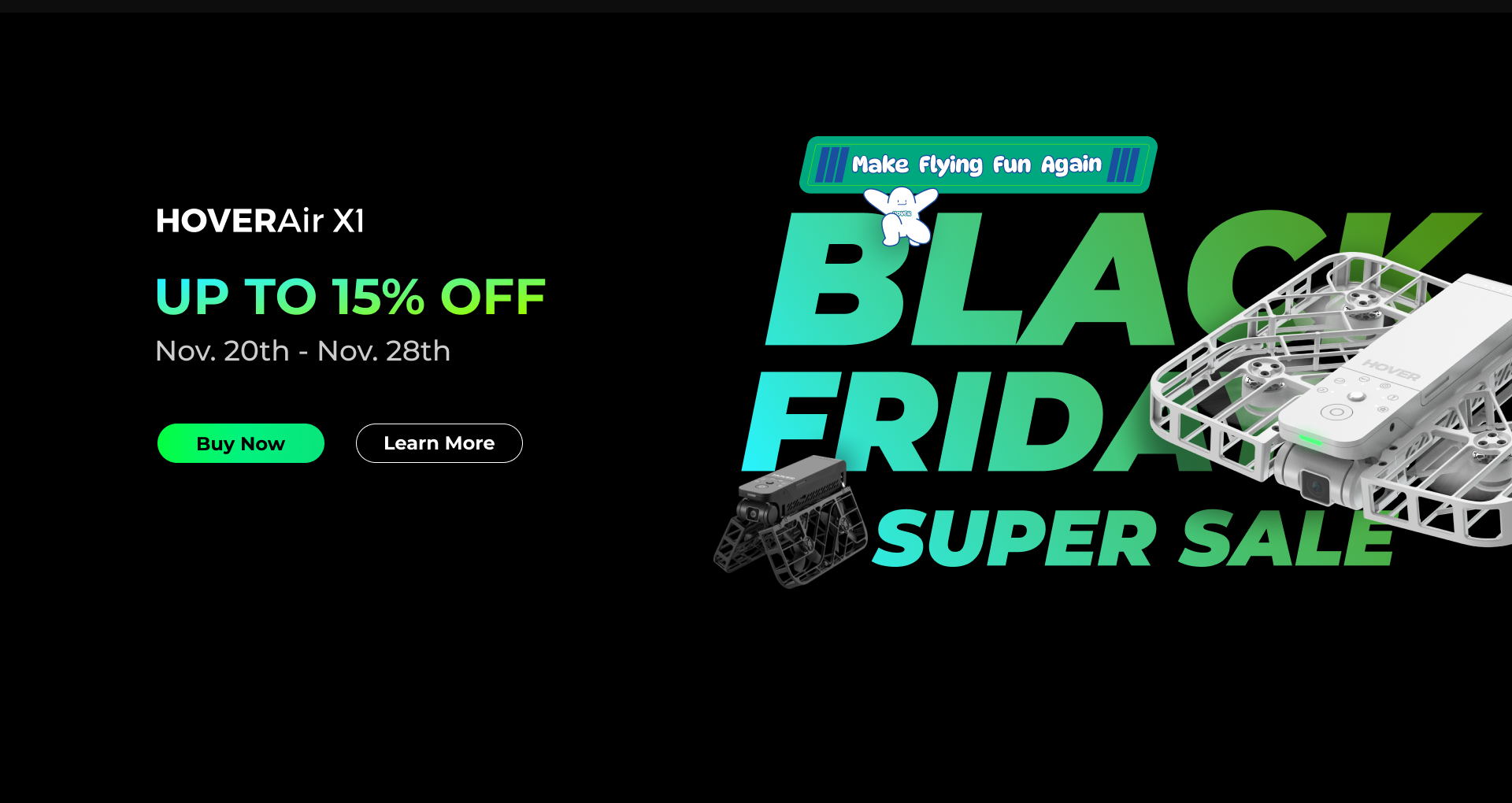 Hold onto your propellers because we've got some goodies in store! Valid coupons for our HOVERAir x1 combo or device version will be up for grabs on Black Friday & Cyber Monday. And wait for it – there's a fun little gift for our customers too, but you better snag it before stock run out!
Where Can You Get in on the Action?
Ready to take the plunge? Head over to the official HOVERAir store at thehover.com. Here's a pro-tip or two:
Free Shipping on Eligible Orders: Spend $99 or more, and we'll provide free shipping to USA, EU, UK, CA, AU.

Get Your Payment Methods Ready: We're all about convenience. Paypal, most credit cards, and now, Klarna is available too. Buy now, pay later – how cool is that?

FAA Certified or Not: Our HOVERAir x1 camera drone weighs in at a mere 125g, so no need to fuss over FAA certification. Just be sure to follow the local laws and regulations when you take flight.
How to Stay in the Loop for Black Friday Deals?
Don't miss out on the excitement! Follow us on our social channels http://www.instagram.com/hoverair_global/ or subscribe to our newsletter for all the juicy Black Friday news and updates. And when the festivities kick off, we'll drop the link to the action right here. Get ready for some serious flying fun! 🎉